OW Lee Patio Furniture
An American family tradition since 1947.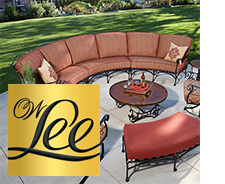 For over sixty years, OW Lee has been dedicated to the design and production of fine, handcrafted casual furniture. From our manufacturing facility in Ontario, California, artisans combine centuries-old techniques with state-of-the-art equipment to produce beautiful casual furniture.
OW Lee furniture is available only from authorized dealers throughout North America and Europe. Through three generations, OW Lee has maintained its commitment to quality, and it will continue to produce the finest handcrafted casual furniture available. OW Lee, an American family tradition since 1947.
Learn About the OW Lee Difference
OW Lee Company uses only the highest-quality materials in the production of their furniture. Carbon steel, galvanized steel, and 6061 alloy aluminum are meticulously chosen for superior strength as well as rust and corrosion resistance. Materials are individually measured and precision-cut to ensure a smooth and accurate fit. Steel and aluminum pieces are bent into exact shapes and then hand-forged with a hammer and anvil, a process unchanged since blacksmiths in the Middle Ages.
A full circumference weld is applied wherever metal components intersect. This eliminates the possibility of moisture entering the interior of tubing or in a crevice, a process that guards against rust and corrosion. All welds are then ground and sanded to create a seamless transition from one component to another.
The frames are blasted with tiny steel particles to remove dirt and oil from the manufacturing process, which is then followed by a five-step wash and chemical treatment to create the optimum surface for the final finish.
A hand-applied, zinc-rich epoxy primer is used to create a protective undercoat against oxidation. This prevents rust from spreading and helps to protect the final finish.
The top coating of durable polyurethane powder is also hand-applied and then oven-cured to ensure a long-lasting finish.
Along with the handcrafted frames, the highest-quality outdoor fabrics are used to create custom-tailored cushions that follow the lines of the collection and fit each piece of furniture perfectly.
Wrought Iron Collections
Click on the images below to see more of each collection.
Avalon
The Avalon collection is a new twist on a time honored design. For decades the mesh chair has been the standard of outdoor living. With the added comfort and style of a tighter micro mesh, the Avalon collection transcends to a designer grade outdoor collection.
Monterra
The Monterra collection features unique details such as hammered rivets at key intersections and embossed flat bars that envelope the cushioning of the chair, creating beautiful and distinctly comfortable deep seating.
Silana
The styling finesse of our luxurious Silana Collection brings high-level sophistication and comfort to any outdoor room. This durable wrought iron collection reflects delicate details of classic Venetian scroll design and features a comfortable sturdy micro mesh foundation.
Wrought Aluminum Collections
Click on the images to see more of each collection.
Ashbury
Intricate scrolls and hand forged bends have been a hallmark of OW Lee's wrought iron collections. Now OW Lee offers the same craftsmanship and artistry in the light weight, easy care aluminum Ashbury Collection.
Vista
The Vista Collection envelopes your body with cushioned comfort. Soft pillow backs, fully formed and upholstered arms and soft deep seat cushions are combined with an elegantly sculpted hexagonal aluminum tube frame that exudes style and elegance.