Louisiana Grills
Country Smoker Pellet Grills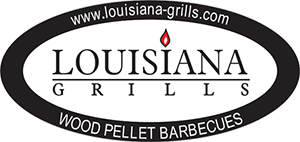 Louisiana Grills is headquartered in Alberta, Canada. Along with Traeger, they were one of the early entrants to the pellet smoker market.  Among pellet cooking enthusiasts, Louisiana is an established name with some history to it. Their Country Smokers are standard, horizontal smokers made of black, powder coated steel.
Enjoy the distinct wood-fired flavor with a Louisiana Grill. The wood smoke flavor tastes better and more unique than any gas or charcoal barbecue giving your food extra smoky flavor and richness. A wood pellet grill offers a safer and faster grilling experience with temperature controls that make cooking your meat fast and easy and the Louisiana Grills classic barrel smoker design offers more valuable grilling space than other grills its size. Precisely control temperature with the digital control center allowing you to cook pizza, ribs, slow roast tenderloin, blackened salmon and steak all on the same barbecue. Made from heavy-duty 14 gauge powder coated steel for superior heat retention and all-weather grilling.
Louisiana Grills – LG Series
Just like the heavy-duty grills of the good old days, only better. With the classic barrel shape of an offset cooker and an intelligent digital temperature control, the Louisiana Grills LG series pellet grills combine rugged construction with set-it and forget-it technology. Craft a low-and-slow BBQ or a meal worthy of a gourmet restaurant. The Louisiana Grill lets you smoke, sear, roast, or bake at the touch of a button. Just load your favorite pellets, program the temperature, and the louisiana grill will do the rest, automatically maintaining its temperature for hours.  The included adjustable Flame Broiler allows you to quickly switch from indirect to open flame cooking so you can grill that steak if you want to.