Corradi Shade Coverings
The Ultimate Outdoor Living Space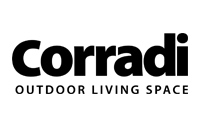 Corradi Outdoor Living Space
Corradi's extensive line of exterior shading systems can solve virtually every outdoor and indoor sun protection need and provides options for wind and rain protection. The window shades can be used to provide extra shade from the outside, which protects your floor and furniture from dangerous UV rays. Sleek designs, advanced production processes, and leading technical partners allow Corradi to offer the very best in quality and design. Corradi's versatile window shade systems are ideal for all types of commercial and residential applications.
View the Video of a recent install of a Corradi Pergotenda Iridium and then call Decked Out Patio to book a custom consultation for your backyard living space.
Pergotenda Iridium
Iridium is a retractable cover system custom made to protect against sun and rain and is affixed to a supporting wall. It consists of a laminate wood structure and a folding canvas that can come in a variety of colors.
More Details about Iridium
Iridium has guaranteed wind resistance of grade 6 on the Beaufort scale for pitched and flat version. The canvas, made from exclusive Corradi Eclissi* fabric, is an opaque laminated PVC and has a side embossed with weft effect.
The fabric is supported by intermediate supporting tubes and terminal bars set parallel to one another. It slides on side tracks with built-in splashguard on carriers with 6 asymmetrical wheels with a capacity of about 1000 lbs each. The toothed transmission belt has stainless steel cables and resists a saline environment; The transmission belt is inserted in each side track, controlled by the drive pulley and a single drive shaft that guarantees the smooth movement of the canvas. The IRIDIUM system is set in motion by a radio-controlled motor.
Pergotenda Move
Corradi Pergotenda Move is an aluminum pergola with a sliding cover.
The Pergotenda® Move is designed for those wishing to give a new lease of life to their outdoor space in an original and innovative way. Contemporary and trendy, Move can be installed with different pillar slopes thanks to two innovative hinges. The structure is equipped with speakers and LED lighting with dimmable RGB system to attain varying color and intensity.
Pergotenda Kubo
KUBO is a FRESTANDING ALUMINUM Pergotenda®. The patented PRODUCT combines a CONTEMPORARY DESIGN with key technical features, such as the eaves and drainpipes fully built into the structure and therefore concealed from view. Modular and versatile, Pergotenda® Kubo can also be anchored to a wall, making it suitable for any type of context, even the most particular one.