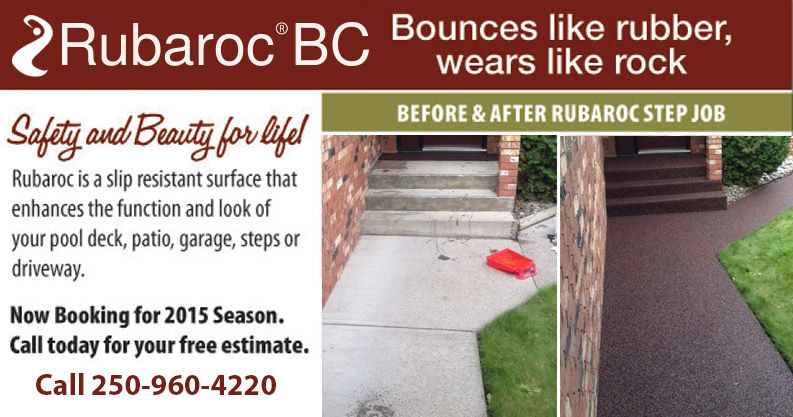 Does this look familiar? Do you have cracked, stained and unsightly looking front step or pathway? Check out the transformation that Rubaroc resurfacing by Decked Out Home & Patio can offer! Anti-slip, stain resistant, salt and chlorine resistant. Now booking for the 2015 season. Limited spaces available.
Rubaroc is a non-slip safety surface that has endless applications. It is comfortable to walk on with bare feet and is durable enough to withstand our Canadian climate without cracking like concrete. Rubaroc is aesthetically pleasing as it is available in many different colours and allows you to cover up cracks and stains without the use of heavy bothersome equipment. Rubaroc is stain resistant and cleans with normal soap and water.
Imagine a slip resistant surface that not only enhances the look of your pool deck, patio, walkways, garage or playground, but also provides comfort, resilience and style. With 30 years of worldwide experience in the quality safety surfaces, Rubaroc exceeds your expectations in cost, performance and long-term durability. Available in a wide variety of colors, logos and designs or borders can be embedded into a Rubaroc surface, enriching your interior or exterior environment.
Click here to find out more or visit our Rubaroc BC website.